Open Source Groupware
Microsoft Exchange is the defacto standard in Groupware, but it is expensive to license and operate. Even hosted Exchange accounts are around 4 times the cost of a regular IMAP account.
Using our cheap, reliable and secure email hosting with the ownCloud software you get a viable MS Exchange replacement without the price tag or support issues. The open nature means you can further leverage this by easily integrating it with other tools used in your business.
This is a good motivation for using your "own" Cloud as opposed to any commercially available ones.
These are examples of how we've used the software
ownCloud was installed behind a corporate firewall, only accessible on the intranet.
We modified the source code to automatically authenticate an account to allow all staff a read only view on a Holiday Calendar - no extra log on was needed. Important company dates (incl Birthdays) were stored in a different calendar, also globally viewable without any authentication.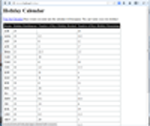 The open backend mean that we could show a tabular summary of holidays showing staff (drawn from an MSSQL DB) along with leave allocation (MySQL) and the holidays already booked (ownCloud MySQL).
This replaced a manual A2 calendar.
Later this was coupled to a variety of systems ensuring that when staff were on holiday (or sick) tasks were not overlooked, ensuring better customer service.
This solution is in use in a small, but internationally distributed office.
ownCloud is installed on inexpensive shared hosting and each user has their own Calendar sync'd to Thunderbird, using Lighting. Some users sync a work and personal calendar to ownCloud. Work calendars are shared on an adhoc format. Also shared between accounts and technical is a general work calendar with renewal anniversaries.
Access from Android (using aCal) and iPhone (using the provided calendar app) facilitate mobile viewing and updating of calendars.
No one reguarly uses the ownCloud web interface, it is only used to setup colours and sharing.